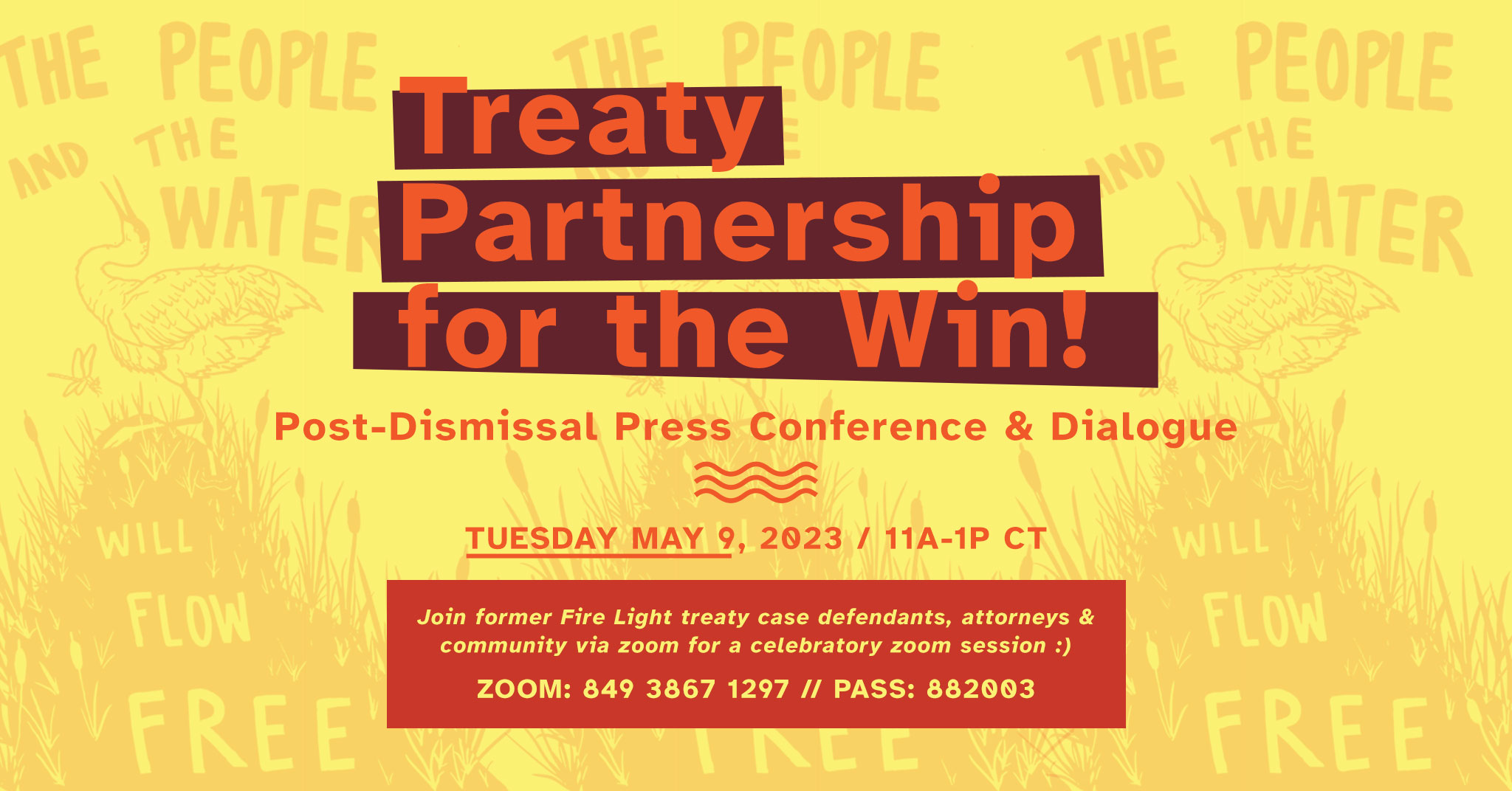 FOR IMMEDIATE RELEASE: On April 25th, 2023, Clearwater County dismissed all charges against the ten remaining defendants cited for trespass after engaging in a ceremonial treaty encampment known as Fire Light. This Anishinaabe-led encampment blocked construction for eight consecutive days at the upstream Mississippi River drill site of Enbridge Energy's Line 3 tar sands oil pipeline in June of 2021.
This dismissal came a day after the presiding judge affirmed that defendants would be allowed to "offer testimony that they were present as non-native treaty partners committed to honoring the treaty obligations of all signatories, in support and by invitation of the Anishinaabe Fire Light ceremonial encampment participants who hold off-reservation usufructuary rights."
In lieu of the week-long in-person court support event originally planned to coincide with the jury trial, defendants and the broader community will be hosting a webinar to debrief the case and explore the central ideas behind the legal defense, and what it means to uphold treaties as non-Native Treaty Partners under Article VI of the constitution.
The press conference & dialogue will take place Tuesday, May 9th from 11a-1pm Central via zoom. The zoom session will include former defendants, Climate Defense Project staff attorney Claire Glenn and part time staff attorney Kira Kelley who represented the defendants, several of the expert witnesses who were prepared to testify, and members of the broader community.
The webinar will be a guided dialogue with time set aside to ask questions and engage with the discussion – please join us! Learn more about the case at FireLightTreatyCase.org.
For Media/Press:
Defendants can be contacted directly via email to FireLightTreatyCase(@)proton.me
Attorney Claire Glenn can be contacted via email to Claire(@)ClimateDefenseProject.org
Attorney Kira Kelley can be contacted via email to Kira(@)ClimateDefenseProject.org
Read the Full "Charges Dismissed" Press Release here: https://firelighttreatycase.org/news/fire-light-charges-dismissed-stay-tuned/
Zoom Attendee Information: 
May 9, 2023 // 11a-1pm Central Time
Meeting ID: 849 3867 1297
Passcode: 882003
Join Link: https://us06web.zoom.us/j/84938671297?pwd=MU1GWitxbFA1anl6V2NhTVNReHJWUT09
One tap mobile
+16694449171,,84938671297#,,,,*882003# US
+17193594580,,84938671297#,,,,*882003# US