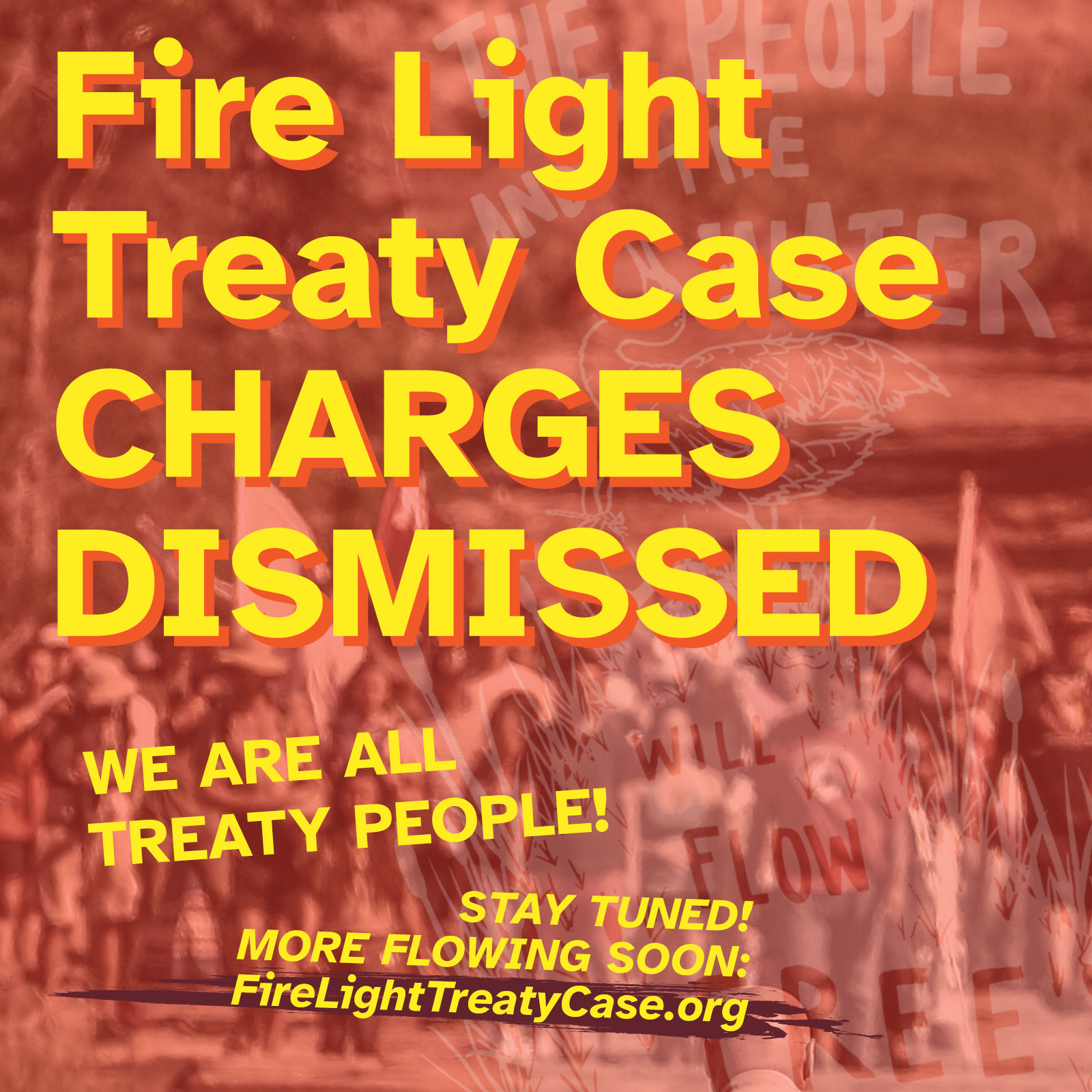 On Tuesday, April 25th, Clearwater County dismissed all charges against the ten remaining defendants cited for trespass after engaging in a ceremonial treaty encampment known as Fire Light. This Anishinaabe-led encampment blocked construction for eight consecutive days at the upstream Mississippi River drill site of Enbridge Energy's Line 3 tar sands oil pipeline in June of 2021.
Of the hundreds of people who participated in the Fire Light Encampment, 51 were arrested. Native defendants were transferred into the jurisdiction of White Earth Tribal Court and subsequently had their charges dismissed for lawfully exercising Treaty-reserved rights, and acting within Rights of Manoomin statutes codified by the White Earth Band of Chippewa Indians. See this press release for details: https://cldc.org/firelight-victory.
These ten remaining defendants were scheduled May 8th for jury trial in Bagley, MN on charges of misdemeanor trespass. They had prepared a defense showing clearly how, as non-Native treaty partners, they had not only the right but the obligation to protect Water and enforce treaty-reserved rights under Article VI of the US Constitution.
This dismissal came a day after the presiding judge affirmed that defendants would be allowed to "offer testimony that they were present as non-native treaty partners committed to honoring the treaty obligations of all signatories, in support and by invitation of the Anishinaabe Fire Light ceremonial encampment participants who hold off-reservation usufructuary rights."
The dismissal of all remaining Fire Light Encampment charges is a small victory in the broader fight for recognition of Indigenous Sovereignty, the defense of treaty-reserved rights, Land, Water, and the Sacred. Although this dismissal is a win, the fact remains that the US Government and the State of Minnesota failed to honor their treaty obligations when they approved the construction of Line 3, without consent, across 1855 Treaty territory where defendants in this case were arrested.
For more information about the case, please continue exploring the story of what took place and the website at www.FireLightTreatyCase.org.
Stay tuned and RSVP to the Fire Light Flood the Courts event for updates on plans for celebratory & educational events in lieu of trial!